'tis the season for distressed denim. and what better way to put it on display than on young hollywood? as a loyal subscriber to nylon for the past couple of years i have never been disappointed with their cover choices (except for the time christina aguilera had been chosen). nylon has come through once again, as mischa barton graces the cover of the august 2008 issue.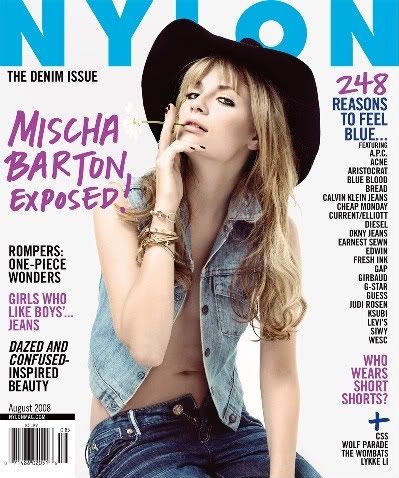 despite the "cellulite issue" and her lack of movie/television roles i still adore mischa barton. yes, she was on three seasons of one of my favorite television shows of all-time (that would be, the o.c for those of you who were living under a rock between 2003-2007), besides that not one person can deny her natural beauty.
there are stories circulating about nylon's troubles of retouching photos due to ms.barton's "cellulite," but i'm convinced that this is a terrible rumor. i didn't want to spoil the entire shoot, so the following is just a peak at what you can enjoy in the august issue of nylon.