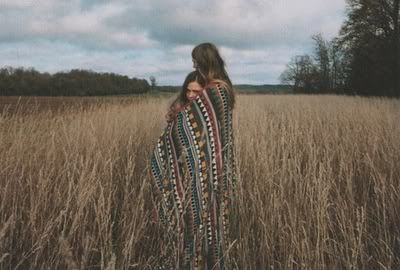 photo source: unknown (my apologies)
i've been tagged by the lovely thefashcrash.blogspot.com/
what are you wearing right now?
a flannel and destroyed denim shorts.
what is the last thing you read/currently reading?
i'm currently reading, the purpose driven life.
do you nap alot?
i honestly don't have the time to do so, but i would very much enjoy it if i could.
who was the last person you hugged?
a numerous amount of friends that i spent my time with last night.
which item from your closet are you wearing most lately?
i've been wearing men's button ups.
what's for dinner?
tonight? vegetarian pizza. someone very kind brought it over.
what was the last thing you bought?
a pair of , see by chloe heeled sandals. i can't wait for them to arrive at my front door!
what are you listening to right now?
as of recent, bright eyes and the shaky hands.
if you could have any super power, what would it be?
the ability to travel through time. that would be too neat.
what is your favourite weather. why?
i really enjoy spring and autumn. i don't like the extreme weather that summer and winter have to offer.
what time do you usually get up?
hm, i have been waking up fairly early. between 7 and 8, depending on what i have to do.
what is your most challenging goal right now?
probably getting the proper amount of sleep.
say something to the person who tagged you..
i always enjoy viewing your blog, dear. and i really like your new header photo!
if you could have a house totally paid for, fully furnished, anywhere in the world, where would it be?
this is all too hard...i would say either a beautiful home in the tuscan region of italy or a chateu in paris.
favourite vacation spot?
italy.
what is your favourite item of clothing?
that i own? a linen over-sized button up shirt that i bought in cinque-terra, italy.
that i am coveting? any piece from etro.
name one thing you cannot live without..
music.
what time is bedtime?
normally, it would be around 2am, but i've been trying to get to bed before midnight.
if you could wake up anywhere tomorrow morning, where would it be?
at the beach on a bed with beautiful mosquito netting, next to someone special.
i am tagging: ccwearschanel.blogspot.com/ and girlmeetsnyc.blogspot.com/