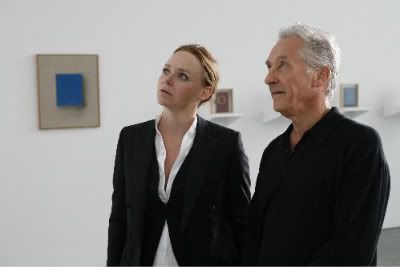 stella mccartney and ed ruscha photo via: sundance channel.
"iconoclasts" is a genius original series that features creative innovators who meet and discuss their passions and love for the career in which they acquire. i'd always wanted to experience the series for myself, since i have heard great reviews, but it just seemed to slip my mind everytime a new pair of iconoclasts were featured. i was surprised and glad to hear that robert redford is an executive producer. recently, stella mccartney and ed ruscha were featured in the riveting show.
fashion designer, stella mccartney and artist, ed ruscha exchanged ideas of fashion and art and how the two meet at a certain point. many know stella mccartney as a visionary of fine clothing, while maintaining an organic and fur-free fashion line. not to mention that she's the off-spring of a famous beatle. although, i hadn't a clue of who ed ruscha was before watching iconoclasts, i was able to appreciate him as the creative pop artist he is. ruscha was apart of the pop art movement in the 1960's alongside andy warhol. ruscha's sarcastic sense of humor shows through most of his pieces.
throughout the hour-long episode i was most inspired by the possible collaboration both mccartney and ruscha had discussed. stella mccartney pitched an idea to ed ruscha for clothing she would designed that featured his own art. to see each in their own environment and explaining their own line of work is just as incredible as seeing them outside of their elements, learning the creative process of the other. after seeing the ideas and color keys that both mccartney and ruscha had in mind, there is no doubt that they could make a beautiful collaboration.