yes, i am one of many who fell in love with the giuseppe zanotti /balmain heels when they pounded on the spring '09 runway. the balance between delicate and rugged is mere perfection.
but, at $1720, it is completely out of my budget...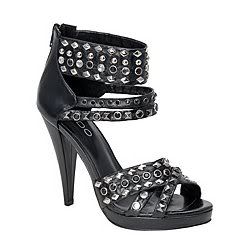 aldo has designed a couple of their own versions. and now we have a more affordable way to achieve the look. the "smeal" (top) and the "molavi" (bottom) both ring up at $125. now they might not be the same piece of art that giuseppe zanotti/balmain has achieved, but aldo does come pretty close.